Project Open Data
Metadata v 1.1 Updates
Phil Ashlock & Rebecca Williams, Data.gov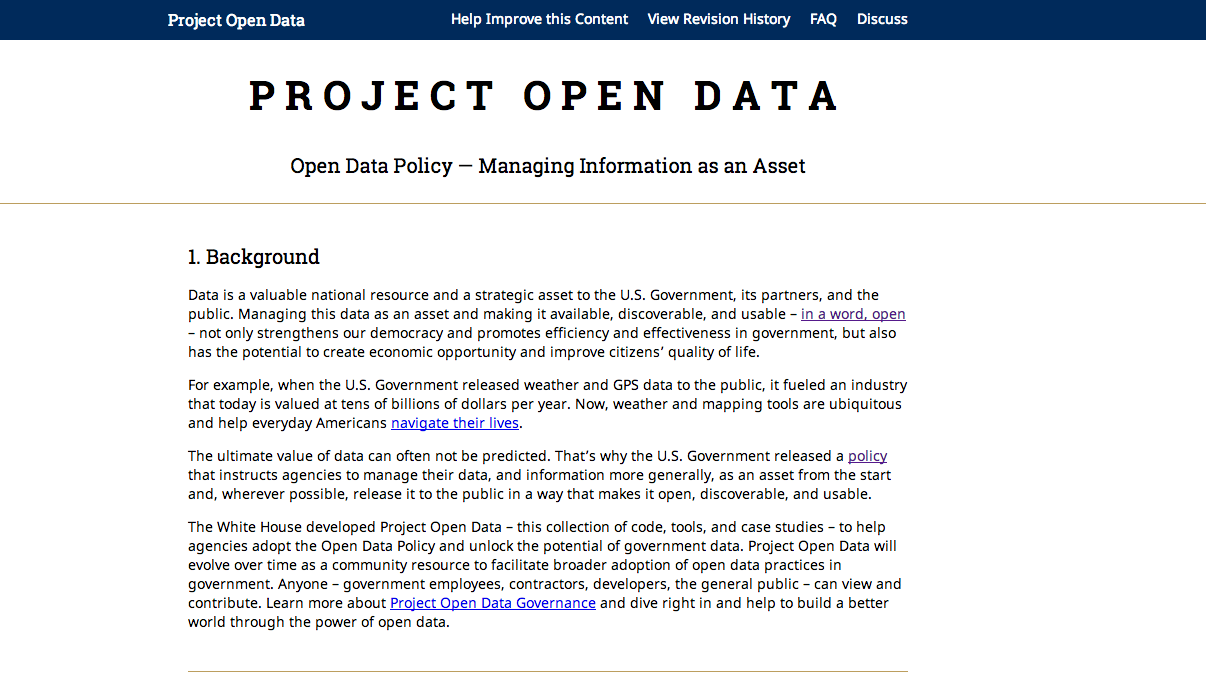 The Project Open Data metadata schema is required under the Open Data Policy (OMB M-13-13) and powers Data.gov
Learn more at Project Open Data.
Metadata Schema v1.1 Updates
Today we will discuss:
Why update the Project Open Data metadata schema?
Tentative Timeline for implementing the new schema
Detailed explanation of updates
Resources, Tools, and Support
Why update the schema?
To better align with DCAT
Reduce confusion and ambiguity
Provide more detailed usage notes
Options for advanced users
All of these changes were informed by your feedback online and through the July government-wide offsite session.
Tentative Timeline
Propose that agencies begin using new schema - December 1, 2014
Agencies should have migrated to new schema - Feb 1, 2015
Data Catalog Fields
Adds required 'conformsTo' field to specify the schema version
Adds required 'dataset' field as a container for all datasets listed
Adds optional 'describedBy' field to specify a canonical or customized JSON schema file describedBy
Dataset Required Field Changes
Changes required 'contactPoint' field to an object that contains the name ('fn') and email address ('hasEmail'):

Adds required 'fn' field as part of 'contactPoint' replacing earlier use of 'contactPoint'
Renames required 'mbox' field to 'hasEmail' and moves to within 'contactPoint'

Changes required 'publisher' field to an object that allows multiple levels of organizations:

Adds required 'name' as part of 'publisher' replacing earlier use of publisher
Adds optional 'subOrganizationOf' field as part of 'publisher' to include parent organization hierarchy
Dataset Required-if-Applicable Field Changes
Removes 'webService' field, APIs can be described within a 'distribution' using 'accessURL' and 'format'
Renames 'accessLevelComment' field to 'rights'
Changes 'license' field to be a URL
Changes 'distribution' field to become required-if-applicable and to always contain the 'accessURL' or 'downloadURL' fields
New Distribution Fields
Adds required-if-applicable 'downloadURL' field to replace earlier use of 'accessURL'
Adds required-if-applicable 'mediaType' field to replace earlier use of 'format'
Changes 'accessURL' field to represent indirect access and to exist only as an optional field
Changes 'format' field to a human readable description and to exist only as an optional field
Adds optional 'description' field
Adds optional 'describedBy' field
Adds optional 'describedByType' field
Adds optional 'conformsTo' field
Expanded Field Changes
Changes 'accrualPeriodicity; field to use ISO 8601 date syntax (#292)
Renames 'PrimaryITInvestmentUII' field to 'primaryITInvestmentUII'
Renames 'dataDictionary' field to 'describedBy'
Adds 'conformsTo' (optional)
Adds 'isPartOf' (optional)
People to help you
Schedule a time to meet with us
Let's walk through the process
Look at your metadata
Project Open Data
Metadata v 1.1 Updates Q & A
Phil Ashlock & Rebecca Williams, Data.gov
/